NOBORITO CHIROPRACTIC OFFICE
U.S.A. Certified(Palmer Graduate)
DR. MITSUMASA ENDO, D.C.
TEL. 045-500-9573
MOTEKI Bldg. 2F, 3463 Noborito, Tama-ku, Kawasaki
30 sec. from Noborito Station/Odakyu Line, JR Nambu Line
(Hours) 10:00 a.m. to 5:00 p.m.
Open on Wed. and Sat.
For Appointment Call 045-500-9573
Initial Visit Fee, ¥7700(¥2200 + ¥5500)
Treatment ¥5500
Examination ¥2200
CHIROPRACTIC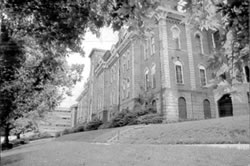 Palmer College of Chiropractic
The management of mechanical disorders of the musculoskeletal system and the effects of these disorders on the nervous system's function and general health, with an emphasis on manual treatments including spinal manipulation or adjustment.
FACTS ABOUT THE PRIMARY CARE CHIROPRACTIC PHYSICIAN
To earn a Doctor of Chiropractic degree, the candidate typically completes a minimum of six years of academic post-high school education.
Common features in the jurisdiction of legislated coutries are:
・ Primary care(direct contact with patient)
・The right and duty to diagnose
・The right to use diagnostic x-rays.



UNBELIEVABLE FACTS ABOUT CHIROPRACTIC PRACTICE IN
JAPAN
Chiropractic practice is not legislated in Japan, and there are many practitioners practicing chiropractic without enough or with hardly any educational background or professional training. Actually anybody can open a practice in Japan today. It is totally your own responsibility to select to whom you go.
There are about 60 legitimate doctors of Chiropractic who graduated from U. S. chiropractic colleges and about 15,000 practitioners in Japan without formal chiropractic education.



THE MOVEMENT TO ESTABLISH A GOVERNMENT
AUTHORIZED CHIROPRACTIC FOUNDATION IN JAPAN
The Chiropractic Federation of Japan(CFJ) is a coalition of the major chiropractic associations in Japan. It is the only chiropractic association established under the guidance of the Ministry of Health and Welfare in Japan. It has about 2,500 members including mostly DCs(foreign trained Doctors of Chiropractic) and non-DC chiropractors in Japan.
The CFJ has submitted an application to the Japanese government for the establishment of the Chiropractic Research Foundation of Japan(tentative name). All the required documents have been submitted and all other necessary procedures have been taken care for the Foundation. The government is now on the process of assessing the application.
We now are facing the chance of lifetime to gain recognition by the Japanese government. However, Some people in our profession are trying everything they can to stop the Foundation being authorized by the Japanese government in order to protect their own benefits. We need to look back at our original goal which was to get sick people well.
The establishment of the Foundation is a prior step toward legislation of chiropractic in Japan. It is the only possible way to introduce a professional standard for the practitioners in Japan and for educational institutions. We have to have some government authority to introduce standards for practitioners and schools, without this it is practically of no use. It is almost the only way to protect the safety of the people in Japan.
1997 World Chiropractic Congress,
Tokyo 3rd from the right, Mr. Junichiro Koizumi, Minister of Health and Welfare
PROFILE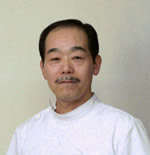 1978, PALMER COLLEGE OF CHIROPRACTIC GRADUATE
1979, KORYOIN CHIROPRACTIC CLINIC
1991, CHAIR, CHIROPRACTIC COUNCIL OF JAPAN
1997, CHAIR '97 WORLD CHIROPRACTIC CONGRESS
OTHERS
CHIEF EDITOR/CHIROPRACTIC REPORT, JAPANESE EDITION  No. 1- No. 32 TRANSLATION STUFF/ "PRINCIPLES AND PRACTICE OF CHIROPRACTIC," BY DR. SCOTT HALDEMAN, DC, MD, PhD , "ACUTE LOW BACK PROBLEMS IN ADULT" PUBLISHED BY THE U. S. AGENCY FOR HEALTH CARE POLICY AND RESEARCH
Chiropractic Examinations
OBJECTIVE DATA ANALYSIS BY COMPUTER DIAGNOSTIC DEVICE
Electromyography–measures activities of muscles Skin temperature thermography–monitors activities of autonomic
nervous system Degital inclinometer–measures range of motion